When I was a kid I saw the oversized Superman-Spider-Man comic on the shelves of the store. I loved that story, not just Superman and Spider-Man, but Jimmy Olsen and Clark Kent meeting Peter Parker, Perry White meeting J. Jonah Jameson.
I've always carried a soft spot for the crossovers. I later found that there were other crossovers, not just Marvel and DC. Here is the list I've created - ordered by companies and years. I doubt it is complete, but it probably has all the Marvel and DC crossovers.
Please let me know if there are any more.
I have included some odd titles which aren't really crossovers:
"Stan Lee's Just Imagine...." is a series where Stan Lee re-creates DC's key characters (e.g. Just Imagine Stan Lee's Batman).
The "Amalgam" comics aren't exactly crossovers, they also are re-imaginings, where a DC and Marvel character are mixed together (e.g. Batman and Wolverine, or Storm and Wonder Woman, or Superboy and Spiderman).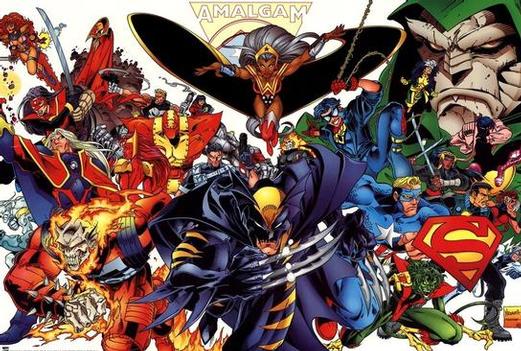 Title
Year
Companies
Total Issues
Judge Dredd vs Aliens
2003
Dark Horse and 2000 AD
4
Just Imagine – Stan Lee's
2001
DC (and Marvel)
12
Batman & Judge Dredd - Judgement on Gotham
1991
DC and 2000 AD
1
Batman & Judge Dredd - Vendetta in Gotham
1993
DC and 2000 AD
1
Batman and Judge Dredd - The Ultimate Riddle
1995
DC and 2000 AD
1
Judge Dredd & Lobo - Psycho Bikers vs Mutants from Hell
1995
DC and 2000 AD
1
Batman & Judge Dredd - Die Laughing
1998
DC and 2000 AD
2
Batman and Grendel - Devil's Riddle/Devil's Masque
1993
DC and Comico
2
Batman vs Predator I
1991
DC and Dark Horse
3
Batman vs Predator II
1995
DC and Dark Horse
4
Superman - Aliens
1995
DC and Dark Horse
3
Batman and Grendel - Devil's Bones
1996
DC and Dark Horse
2
Batman vs Aliens
1997
DC and Dark Horse
2
Batman vs Predator III
1997
DC and Dark Horse
4
Batman - Hellboy - Starman
1999
DC and Dark Horse
1
Batman - Tarzan - Claws of the Cat-Woman
1999
DC and Dark Horse
4
Superman vs Terminator - Death to the Future
1999
DC and Dark Horse
4
Green Lantern vs Aliens
2000
DC and Dark Horse
4
Superman vs Predator
2000
DC and Dark Horse
3
Justice League vs Predator
2001
DC and Dark Horse
1
Superman vs. Aliens II - God War
2002
DC and Dark Horse
4
Superman and Batman vs. Aliens and Predator
2007
DC and Dark Horse
2
Catwoman and Vampirella
1997
DC and Harris
1
Batman - Spawn - War Devil
1994
DC and Image
1
Spawn and Batman
1994
DC and Image
1
1
1
Superman and Savage Dragon - Metropolis
Superman and Savage Dragon - Chicago
Superman vs Spiderman
1999
2002
1976
DC and Image
DC and Image
DC and Marvel
1
1
Batman vs Hulk
1981
DC and Marvel
1
Superman vs Spiderman
1981
DC and Marvel
1
X-men vs New Teen Titans
1982
DC and Marvel
1
Batman – Punisher
1994
DC and Marvel
1
Punisher – Batman
1994
DC and Marvel
1
Darkseid vs Galactus
1995
DC and Marvel
1
Green Lantern – Silver Surfer
1995
DC and Marvel
1
Spiderman – Batman
1995
DC and Marvel
1
Amalgam Comics
1996
DC and Marvel
12
Batman – Captain Amieica
1996
DC and Marvel
1
DC vs Marvel
1996
DC and Marvel
1
DC vs Marvel – All Access
1996
DC and Marvel
1
Silver Surfer – Superman
1996
DC and Marvel
1
All Access Unlimited
1997
DC and Marvel
1
Amalgam Comics
1997
DC and Marvel
12
Batman – Spiderman
1997
DC and Marvel
1
Daredevil – Batman
1997
DC and Marvel
1
Hulk vs Superman
1999
DC and Marvel
1
Superman – Fantastic Four
1999
DC and Marvel
1
Batman – Daredevil
2000
DC and Marvel
1
The Darkness - Batman
1999
DC and Top Cow
1
JLA - Witchblade
2000
DC and Top Cow
1
JLA and Cyberforce
2005
DC and Top Cow
1
The Darkness and Superman
2005
DC and Top Cow
2
Planetary Batman - Night on Earth
2003
DC and Wildstorm
1
Batman and Danger Girl
2005
DC and Wildstorm
1
Witchblade - Darkchylde
2000
Image and Top Cow
1
Tomb Raider - The Darkness
2001
Image and Top Cow
1
The Darkness & Tomb Raider
2005
Image and Top Cow
1
The Darkness and Vampirella
2005
Image and Top Cow
1
Misc Witchblade issues
Image and Top Cow
16
The Punisher Meets Archie
1994
Marvel and Archie
1
Shi and Daredevil - Honour thy Mother
1997
Marvel and Crusade Comics
1
Wolverine Shi - Dark Night of Judgment
2000
Marvel and Crusade Comics
1
Marvel Zombies vs Army of Darkness
2007
Marvel and Dynamite
5
Backlash and Spider-Man
1996
Marvel and Image
2
Badrock and Wolverine
1996
Marvel and Image
1
Deathblow and Wolverine
1996
Marvel and Image
2
Spider-Man and Gen 13
1996
Marvel and Image
1
Spiderman and Badrock
1997
Marvel and Image
2
Avengers and Ultraforce
1995
Marvel and Malibu
2
Nightman vs Wolverine
1995
Marvel and Malibu
1
Prime and Spiderman - What's A Hero Anyway
1995
Marvel and Malibu
1
Prime vs The Incredible Hulk
1995
Marvel and Malibu
1
Rune vs Silver Surfer
1995
Marvel and Malibu
2
Ultraforce and Spiderman
1996
Marvel and Malibu
1
Devil's Reign
1996
Marvel and Top Cow
9
Ballistic and Wolverine
1997
Marvel and Top Cow
1
Daredevil and Shi - Blind Faith
1997
Marvel and Top Cow
1
Wolverine and Witchblade
1997
Marvel and Top Cow
1
The Darkness - Hulk
2004
Marvel and Top Cow
1
Witchblade and Wolverine
2004
Marvel and Top Cow
1
The Darkness - Wolverine
2006
Marvel and Top Cow
1
Cyber Force and X-Men
2007
Marvel and Top Cow
1
Unholy Union
2007
Marvel and Top Cow
1
Witchblade and Punisher
2007
Marvel and Top Cow
1
Magdalena - Daredevil - The Devil in Longhand
2008
Marvel and Top Cow
1
Team X and Team 7
1996
Marvel and Wildstorm
1
WWIII
1997
Marvel and Wildstorm
4
Painkiller Jane vs. Darkness
1997
Top Cow and Event Comics
1
Witchblade Devi
2008
Top Cow and Virgin Comics
1